VINYL REPLACEMENT WINDOWS,
BAY WINDOWS, PATIO DOORS, DOORS & ENTRY WAYS
BVS sells only the finest locally built vinyl replacement windows available. With many window options and manufacturers, the best choice is buy windows that are built at altitude to perform at altitude. Vinyl windows not built at altitude have a very high failure rate. It also helps to stimulate our local economy!
Windows are an important part of a home's aesthetic, both inside and out. You can increase the value of your home and make it more energy efficient with all new Vinyl Windows. Whether you are interested in a few windows or need to replace every window in your home, BVS has the expertise and experience for the Job!
Clayton was professional and made sure the windows were installed correctly. Clayton was meticulous with the finish work, polite and friendly answering virtually all of our questions. Orville L. in Longmont
Patio Doors can be beautiful and functional, thanks to Amerimax's redesign of our energy efficient patio door products. Our New Direction in patio door selection and style offers so many choices you will be sure to find one to fit your home.
A Bay or Bow window will transform your home inside and out by creating a focal point, opening up any room, expanding your view and bringing in more light.
Custom-design your Bay and Bow Windows with 1 1/4″ oak-stock head and seat boards or choose flanking side windows from Double-Hung or vented Casement styles. No matter what you choose it is the most inexpensive room addition available.
Create a New Entryway that reflects your unique style. Choose from many door designs and several color and hardware options to achieve the customized appearance you desire. Your custom door will be configured to your specification to ensure it fits exactly into your home and provides the superior appearance that sets your home apart from the rest.
Why Buy Vinyl Windows?
Unlike wood windows, Vinyl Windows require little maintenance. Normal household cleaners will do the job.
Vinyl does not conduct heat & cold like Aluminum Windows (No Ice Buildup)
Vinyl is easy to custom build a specific sized window using computerized welding machines.
Color all the way through the frame, it resists fading.
For many decades, Vinyl windows have a proven track record of being an excellent solution for your home!
Poorly engineered windows constructed from inferior PVC compounds (usually recycled vinyl) have a very short shelf life. It actually saves you money to spend a little more for a better window.
Contrary to popular belief, 10 times stronger than Fiberlux.
Lifetime Warranties
EASY TO CLEAN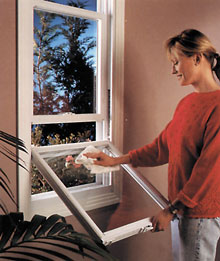 Call BVS for an in-home presentation 303-447-9822 or visit the Amerimax Website
for more detailed information.